Hi,
I'm new to flighgear. I'm using FG to practice IFR procedures, im a real pilot and i found it very realistic compared to other simulators. After some minutes of use i found that all of the runways visuals are not aligned with the aproach course. For instance im trying to do an ILS aproach to runway 23 at SCSN. The final aproarch course is 233, when I reach the DH, the runway is not where it is supoused to be, it's not aligned. I managed to browse the internal properties, and all look fine to me (heading, mag-var, course, cdi, etc). I think that maybe the scenery has some kind of offset, i don't know.
I wanted to ask if someone has some insight on this issue and help me solve it. I would be glad to contribute to the project.
Here is a screenshot to make myself more clear, im flying a 233 ils course in SCSN, im on course and heading of 233 aproximatly. If you look the runway you can see that is not aligned with the aproach. I fly this aproach in real life and i can asure that the runway is aligned with the 233 final course, haha.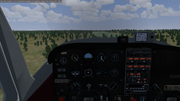 Thanks, Enrique
PD: English is not my primary language, sorry.