5000
Thorsten wrote in

Fri Feb 15, 2013 12:58 pm

:As for darkness:

direct sunlight: 32,000–130,000 lux

very dark overcast day: 100 lux

There's a factor 300-1000 between the actual amount of light in the scene. I think you seriously underestimate overcast weather (or should do something to your screen brightness, that may also contribute here...)
OK - My screen specs: 6500°k, Gamma 1,8, 100 cd/m2.
I do professional photo editing, so I use a hardware calibrated monitor and can't change this setting just for FG. 100 cd/m2 are off course on the low end today, but I have to stay compatible with other sources that are using CRT-monitors. Even I have still some of that kind on the start. LCD-monitors nowadays easily go up to 400 cd/m2 or even more. But I don't think, that it's wise to make it such bright, even if it's possible. CRT-monitors typically hardly reached 120 cd/m2 when they where new and now 100 for them may be more realistic. I sometimes wonder if brighter monitors may be a reason for some things getting darker.
You re probably right about the amount of light reaches the earth. But fortunately our eyes are capable to adapt. So if something is 1000 times darker we can tell this via measurement, but hardly by looking. A white sheet appears to be white to us if we look at it in bright sunlight, or under candlelight. If I take a camera with exposure set for sunlight, the picture under candlelight will be near to black. So IHMO perception should be more our guide for brightness than measurement.
I don't doubt that there are weather situations that appear so dark by perception, but the title of the METAR string is Marginal VFR (XXXX 012345Z 23010KT 5000 SHRA SCT012 BKN018 OVC060 15/11 Q1010). Overcast for me isn't VFR (OK - you can stay under the clouds. But I guess this might not be the intention).
I've done some new comparison. On the top is FG 2.10.0b375 without skydome scattering, next with skydome scattering. On the bottom is the same METAR string in FG 2.0. In this specific case I found the FG 2.0 version the most plausible, apart that skydome scattering does the better job in FG2.10. The second picture is the same scenery at 5000 ft. In FG 2.10 you can't see any ground. So hardly VFR. Apart from the brightness the METAR seemed to be interpreted in a quite different manner by FG. Maybe the optimum is somewhere in between. If your screen is much brighter than mine, the FG 2.0 version should look way to bright for you?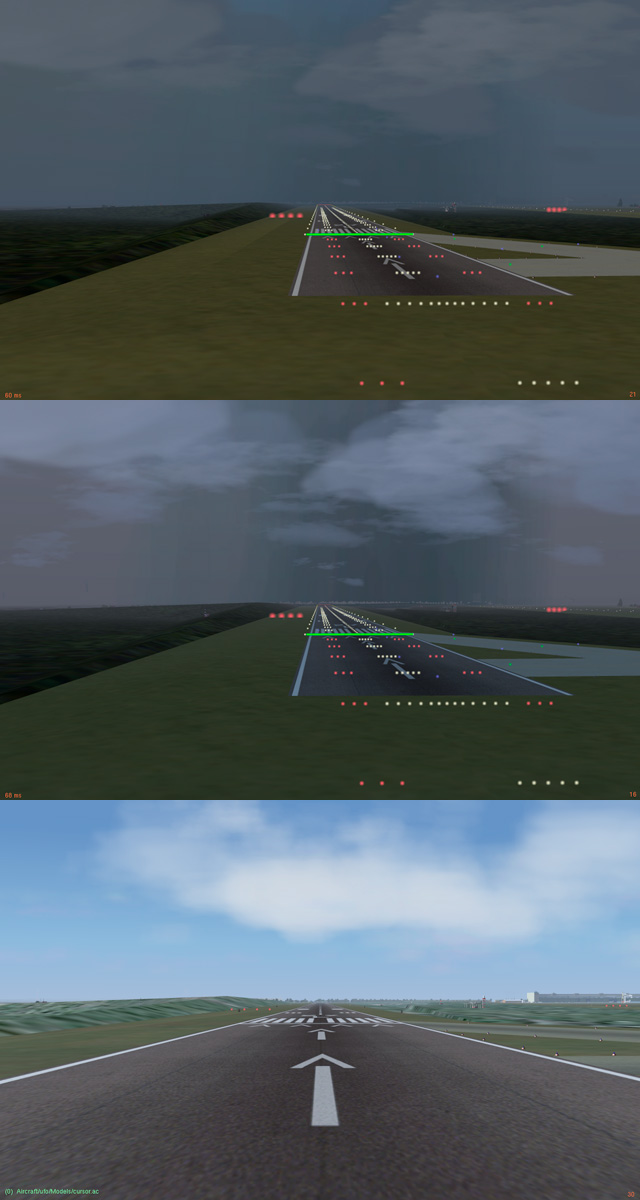 Same scene at 5000 ft.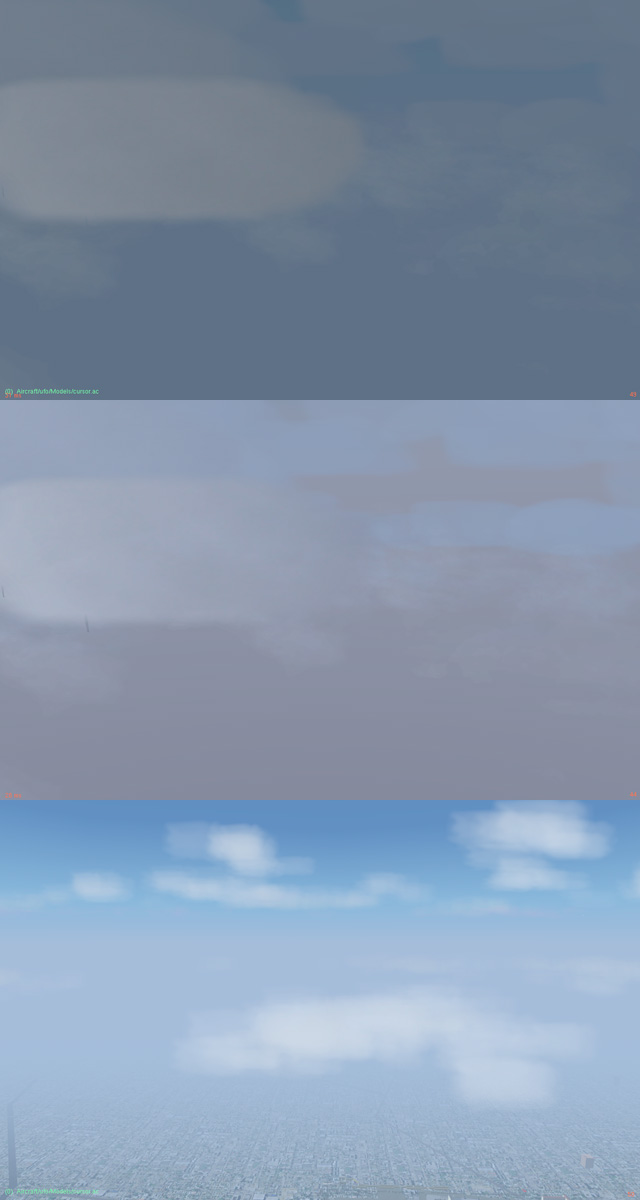 Thorsten wrote in

Fri Feb 15, 2013 12:58 pm

:It's difficult to figure out the problem if you have one screenshot where the skydome comes out right and one where it doesn't.
I know. Unfortunately I haven't found a scheme yet, on that the effects rely. I had the hope my last post can clarify something. But unfortunately not. But is there another/better way than show and discuss it here?
Just let me say that for me the skydome scattering looks like the way to go and I like it very much and it has made a great progress. It mostly works fine, especial under sunny conditions. That the adapted light rendering makes light more interesting and realistic. Would be glad, if it could be best under all circumstances.
About the screen brightness: Even if you don't have a measurement device for calibration, you can get for example under
http://www.eci.org/de/downloads
monitor test-files, that allow a rough visual evaluation. In there are a black and a white field with the string eci in it. Your monitor is well, if can't read it, but guess that there is something.
In the end back to the red light again. Here a new example with a visibility manually set to 4032 m. The red lights appear much darker in the skydome scene. If this correct, at least FG is incoherent because the other lights stays at the same brightness. In reality red light reaches much further than blue or green.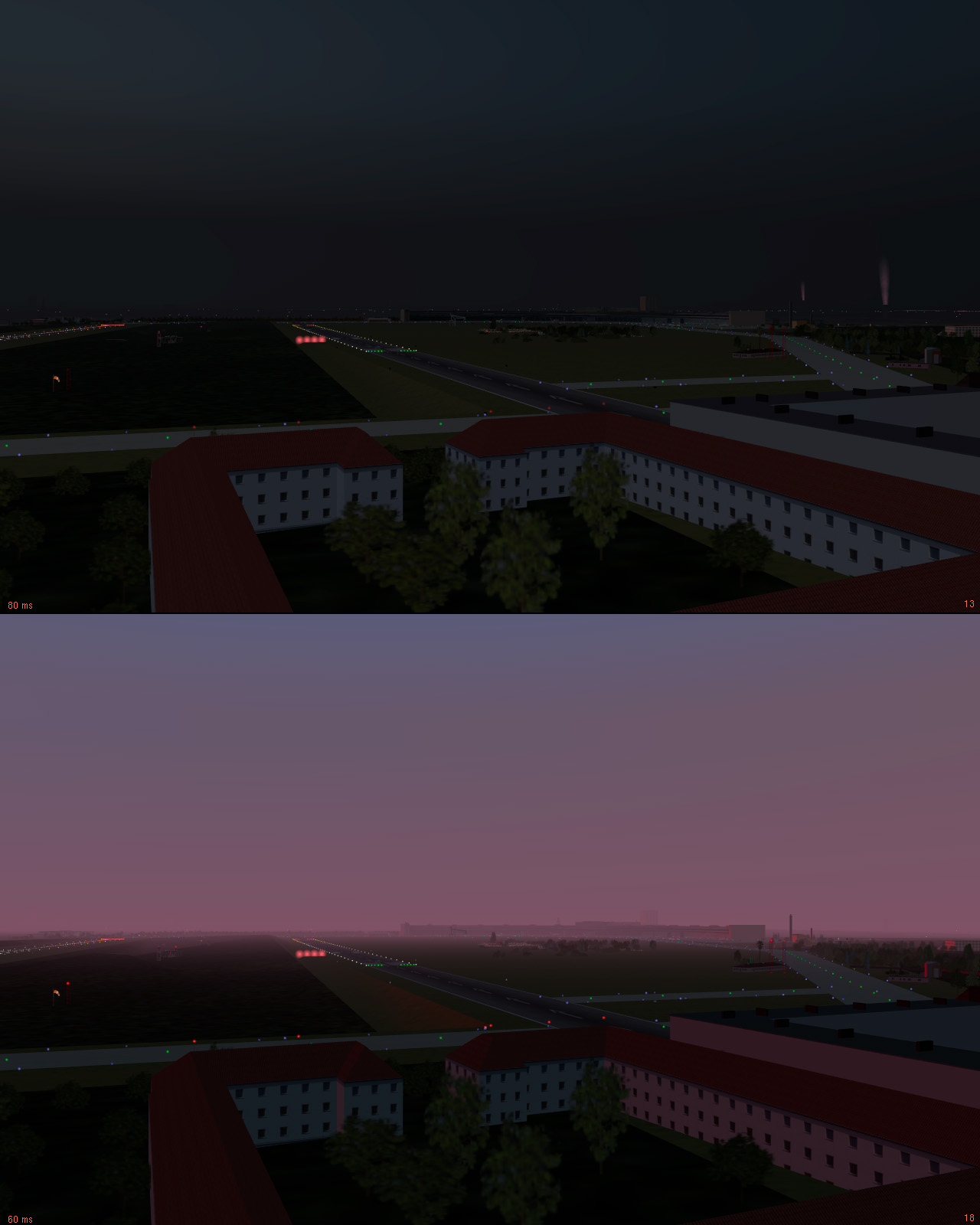 Skydome scattering in the upper one.