I was going to adapt the MessageBox example to render a MessageBox inside a MFD instrument, but then I realized that we're always creating new "windows", i.e. the API doesn't currently provide any way to render to/reuse an existing Canvas - for more sophisticated MFD instruments (Avidyne Entegra R9, G1000, GPSMap196, Garmin 530), we'll probably need to ensure that all widgets and dialogs support being rendered in an existing canvas.
Especially the Avidyne Entegra R9 code should greatly benefit from being able to reuse (and style) existing widgets, because they're currently creating their own widgets without using any of the standard widgets. For instance, they came up with their own "tab" widgets and scroll areas:
https://gitorious.org/extra500/extra500 ... widget.nas
Including a gui.nas based "message" system:
https://gitorious.org/extra500/extra500 ... i.nas#L125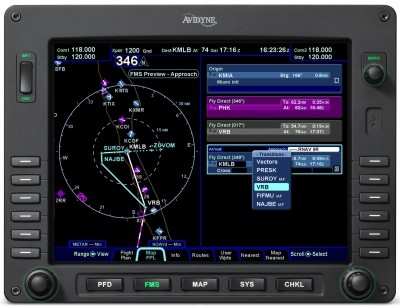 F-JJTH mentioned that he'll also have to support certain widgets for the GPSMap196 (tabs, dialogs, text fields, labels buttons).
Given the degree of GUI support in both instruments, it would make sense to keep such use-cases in mind so that avionics developers can reuse/style existing widgets, and customize widgets or create new ones, that won't be instrument/aircraft-specific, but that will be just generic Canvas widgets. Overall, supporting such use-cases would then be fully in line with ARINC 661, i.e. fully supporting recursion in the form of a GUI widget rendered on a MFD, showin inside a GUI dialog