What is autopush?
Autopush aims to develop a generic pushback for JSBSim and YASim
aircraft, with the following characteristics.
1. Do the pushback procedure automatically.
2. Scale to different aircraft with minimum changes to their logic.
3. Use no computer resources in flight.
So what does autopush change for the user?
First of all, the pushback doesn't disappear when the dialog is closed:
The dialog it self has changed a bit as well: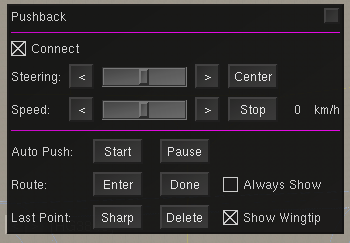 The upper part can be used like the old pushback: Click connect and use the speed to push (or pull) you.
The lower part belongs to the autopush system.
By clicking `Enter` you can plan your pushback route in advance (if you are not in an outside view, the view will go outside, into a satelite like view):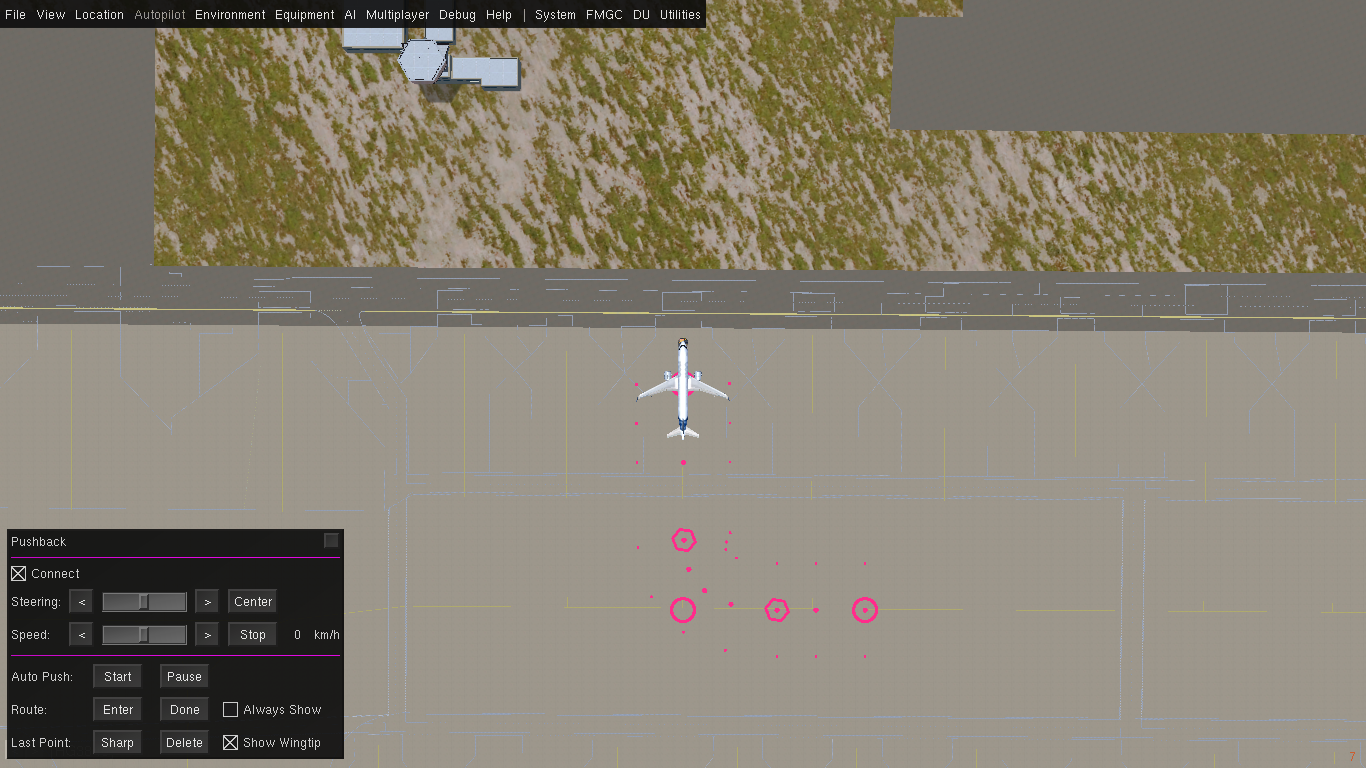 If you're planing your route in proximity to obstacles like buildings or other aircraft, you can tick `Show Wingtip` to see the path that your wing tips will follow to make sure you don't clipp into any objects.
With `Delete` you can delete points you've entered in reverse order.
`Sharp` Ends the current curve and starts a new one. Points with the "Sharp" attribut are displayed as hexagons.
If you plan a direction change of over 90 degrees from such a point, the point will be displayed as 6 outward pointing arrows and the pushback will change direction:
If you got pushed, you will be pulled from there on.
If you got pulled, you will be pushed now.
If the route turns red, it means that your planed route make a too tight curve. Delete the last point and try to give it a wider bow.
When you're done with entering your points, klick `Done`.
To review your route, tick `Always Show`.
Klick `Start` to start the automatic pushback. `Pause` will pause the pushback procedure. You can continue at any time by klicking `Start`again.
The dialog can be closed at any time without influencing the system.
This system gives you the possibility to do your engine start procedures or checklists while pushback.
You are a user and want to try autopush?
There are a couple of aircraft, including the A320 and B777 which have it.
If you want your favorite plane to have autopush open an issue or write the maintainer on the forum and link him/her here.
You are a developer and want to add autopush to your aircraft?
You can find the instructions on how to add autopush in $FGDATA/Docs/README.autopush
No matter if you are a developer or a user, no matter if you have a bug or a feature requests please go
here
.
For general feedback, please write a reply to this post.