This project aims to create new regional textures, particularly for the Southern Hemisphere.
Work done so far:
- African savanna
- African deserts
- African Mediterranean
- African/Middle East cities
- Rainforests (Amazon, Serra do Mar, African and Southeast Asia
- Brazilian cerrado
- Brazilian pantanal
- new Latin American city texture
- new Mediterranean town texture
- Brazilian caatinga
- South American pampas
- California
- Mexico
- Central America
- Southern Europe (Mediterranean region: Portugal, Spain, south of Italy, Greece, coast of Balkans)
- new industrial texture
- winter textures for 18th century European city and European town
- urban shader and night light for 18th century European city and European town
- American town texture
- better pack of ice textures
- large city and mega city areas: making the street lights more dense
- new airport grass texture
- new HD runway textures
Working on:
- implementing dirt runway effect
Link for the repository:
https://github.com/gilbertohasnofb/new- ... l-textures
Please note that you should backup your Materials and Textures folder as some of the files on them will be overwritten. Also I give absolutely no guarantees about the result as this is still a work in progress. This has only been tested with FG 3.6 from git and I have no idea on backward compatibility.
* * * * * * * * * * * * * * * * * * * * * * * * * * * * * * * * * * *
ORIGINAL POST:
Hi all,
I just would like to share some improvements I am currently making to the scenery of Brazil and of Latin America in general by playing with materials and creating new textures. It's by no mean perfect as I am learning these techniques only now, but here are some pictures and comments about them.
1. Serra do Mar region (coast of Santa Catarina, Parana, Sao Paulo and Rio de Janeiro). The default scenery was really bad for this region... The image below show how it looks in real life:
The default scenery had wrong type of trees, lots of crops, fields, grass, etc., where in fact we should have a dense forest. It also had non-tropical trees all around it. Now it looks like this (I am in Santos and those hills behind lead to Sao Paulo):
This is a typical Latin American city, with small houses with orange roofs:
And this is the new city texture. It's by no mean perfect but hopefully they resemble those pictures above (they don't have an outstanding resolution but it's so hard to get GPL satellite imagery for Brazil....):
It also has night illumination:
This is how it looks with the urban shader off:
As you can see, the whole way up to Rio de Janeiro will be covered in forest, and the new texture (based on Texture/Trees/tropical.png which) is also greener and has some better alpha channel:
2. Amazon forest region
Manaus was simply not there, our scenery thinks that Manaus is not a city but only fields and grass!:
Since there are no other fields around Manaus, I did a little hack: for that small region around the city, FG will create city textures and buildings where fields were supposed to be. See:
The colour of the water also have been modified. Here is the Rio Negro (Black River) with its dark blue colour. Also note in the background some deforestation area:
Just in front of Manaus, the Rio Negro meets the Rio Solimoes, which is a light brown river. The result is this: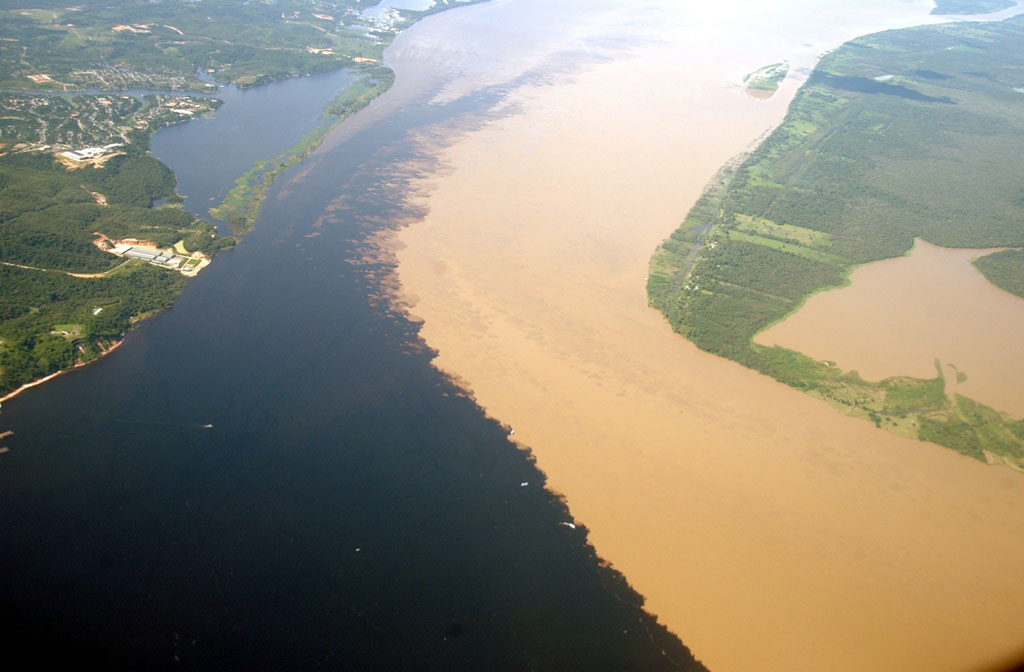 And here is what I managed to do in FG:
All other rivers in the Amazon forest will have this typical brown colour as well:
Here is how they look in a different weather giving them more reflection:
3. I applied my city texture to the whole Latin America (from Mexico all the way down), and I also use my new tree texture for the Latin American tropical region.
4. I also added some objects to our database, so by tomorrow TerraSync should give you some interesting points in these regions (Amazon Theatre in Manaus, Pacaembu stadium in Sao Paulo, Maracana stadium in Rio de Janeiro).
Things to do still:
- improve city texture
- improve tiling effect with the city textures
- create the North the coast of Brazil with the more tropical looking trees Texture/Trees/tropical-alt.png
- add more objects to these cities, particularly tall buildings to Sao Paulo
Hope you will find these modifications interesting.
Cheers!
Gilberto