This Project is for my flying school, they are interested in using Flightgear to help train pilots, amazingly enough, they use a VERY simalar aircraft to one Connect is Developing, The Jabiru 170, although the flying school operates 160`s, the 170 will still have a simaler feel, and may be able to be adapted anyway.
Here is a shot from above with a brief Discription: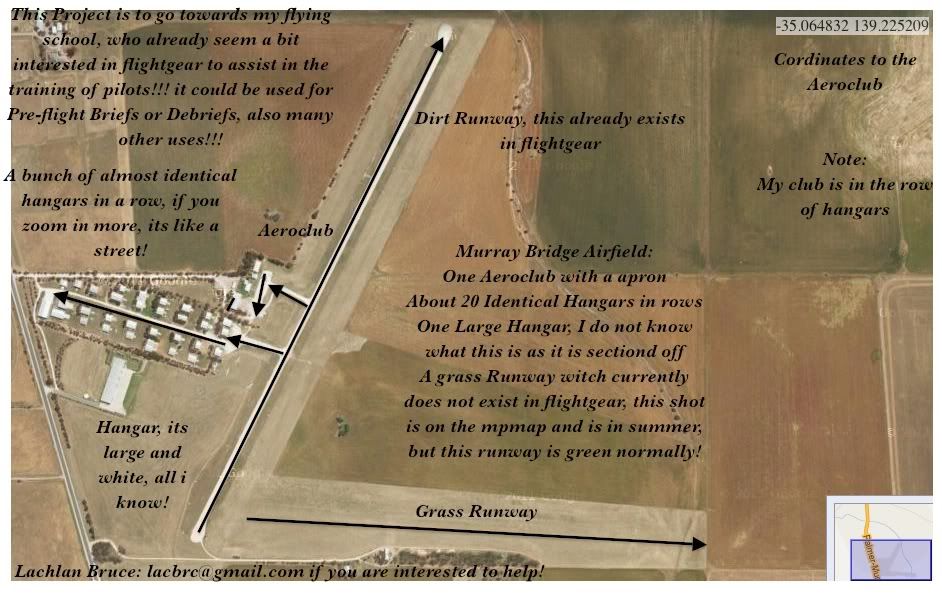 Some shots i took from my first lessons, i can add locations on the airfield if you wish for it......
Found a vidio of a Takeoff in the aircraft i flew from the Field:
http://www.youtube.com/watch?v=IKNOoLBMjSU
and another of a circut and landing!:
http://www.youtube.com/watch?v=P394n-V2 ... ure=relmfu
You also get a good glimpse of the Airfield from this vidio, my local flying clubs intro vidio!
http://www.youtube.com/watch?v=Iq-A96so ... r_embedded
IF you are interested to help you can PM me or post intrest, I need some help, as i personaly do not have the skills to do this, and would enjoy learning how to do so,
the only other thing is the local murray river, witch is currently about 8 seperate rivers continuisly crisscrossing eachother, and it looks ugly! so if we can make that good within 9 miles of the airport (dosent have to be detailed, only the river needs changing) it will be perfict and i will take it to the school.
Lachlan.