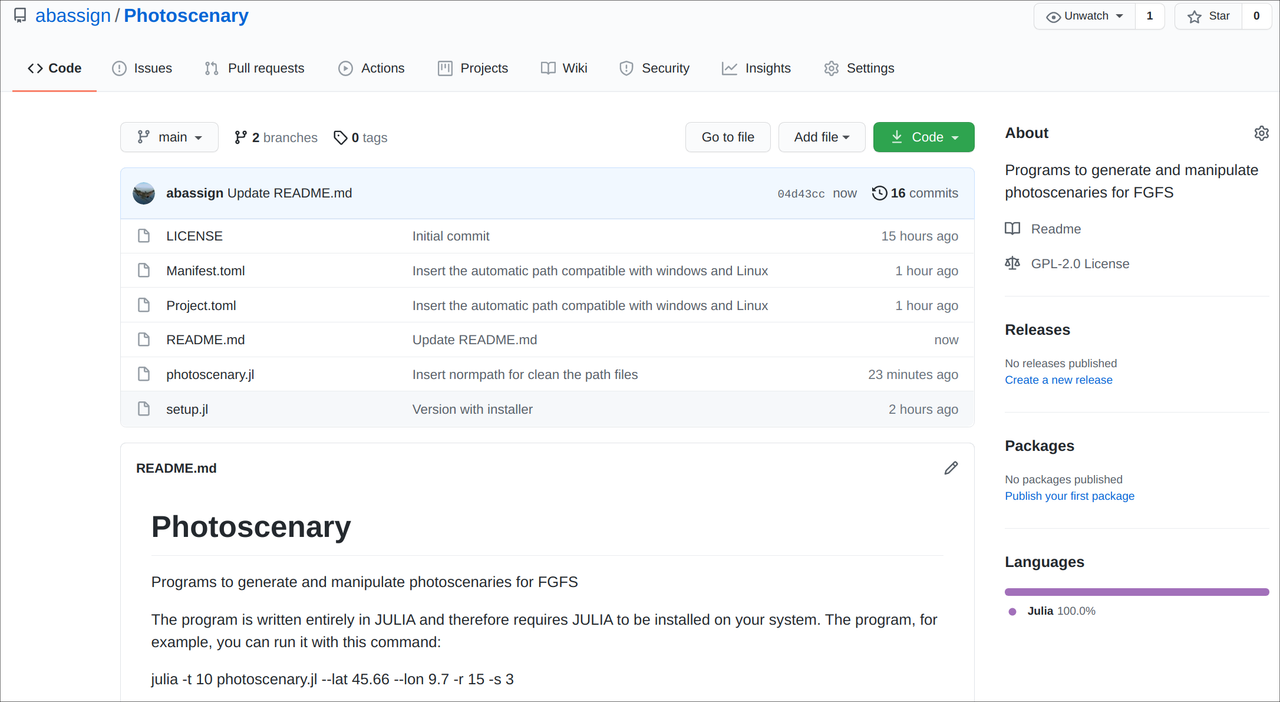 Many users are asking me for clarification on how to create a photoscenery with simplicity. The procedures currently proposed are rather complicated and work well only on Linux machines, they use various types of programs that less experienced users are unlikely to understand. This is why I wanted to create a scenario generation procedure that was as automatic as possible and that would allow you to change the resolution of scenarios in specific areas (for example around an airport) according to the wishes of the users.
In these posts I insert the information necessary to use the procedure that is now available on this GIT under GPL2 license:
https://github.com/abassign/Photoscenary
Criteria for implementing the program
Analyzing the various problems of FGFS users who want to get a good photoscenary to be able to fly on a photo-realistic territory, I noticed that some were very recurring so much that I could list some features to be solved:
1. Use a single programming environment that is compatible for Linux, Windows and MAC.
2. Do not use script language that only work on certain types of shells, which is hardly acceptable to a user without high programming skills.
3. Be very light on the CPU level to be able to run on PCs that are doing other things, such as working or flying with FGFS.
4. Being able to resume an image download session without having to start over.
5. Handle the images that have not been properly uploaded.
6. Being able to change the resolution of images in certain areas (for example around an airport) to reduce the RAM required to take advantage of this feature.
7. Being able to define a certain area only with a pair of coordinates (for example an airport or a city) and a radius within which to cover with the photoscenary.
8. Ability to perform multiple downloads that increase the download speed of the scenarios from 3 to 10 times (depending on the actual speed of the network connection).
Use of the Julia programming environment
This is not the place to determine the use of a specific programming language, but the introduction of Julia among the languages present in the constellation of FGFS applications can be a good opportunity to rethink what can be done in 2021. Julia, like Java, is a completely platform independent language, this fact is essential to simplify the life of those who program, but also of those who use it. Julia is a language that has an executive permance equal to C ++ despite its syntax being more similar to that of a script-language such as Python. In Julia it is not necessary to define variable types (although recommended in projects that require maximum performance and guarantee a more precise debug), which is very useful when you need to produce prototypes or programs that are easy to modify, as is the case in this case.
Julia has other very interesting features, it is an imperative language, but also functional (in this case similar to NASAL), it allows to interface directly to almost all programming languages(C, C ++, Java, Java Script, Python etc) and produces a compiled very compact and "hidden" from the eyes of those who use it.
Finally ... Julia can directly use the GPU for some applications and OpenGL etc ...
In short, it can be a good investment for those who want to program and, observing its constant increase in popularity, they are very likely to think so.
Prerequisites
For all three environments (Linux, Windows and MAC) it is necessary to satisfy two prerequisites that can be easily downloaded at these two links:
ImageMagick
https://imagemagick.org/index.php
It is absolutely necessary to convert the downloaded png file to dds type files which are used by FGFS for scenarios. It is also possible to use just png files, but if these are large, FGFS performance drops miserably and often overflows memory. For this reason I did not want to insert the option to use only png files, but I oblige the user to accept the automatic conversion of files from png (which are then deleted) to dds.
Imagemagick allows you to convert files transparently to the user very quickly.
In Linux distributions, Imagemagick is often already present, to find out just type the command "
convert --version
" and see if something responds. In windows it must be downloaded with an installer that can be downloaded here:
https://imagemagick.org/script/download.php#windows
Imagemagick allows you to convert files transparently to the user very quickly.
Julia
https://julialang.org/downloads/
The download link is this:
https://julialang.org/downloads/
I strongly advise you to use the Julia 1.6 version as the compiler is much faster to compile than the 1.5 which is often present in Linux distributions. However, 1.5 works well with this program as there are no particularly advanced instructions.
Also for Julia download the program file and install, it is very simple and takes a few minutes of time.
The executable program
The executable program is called
photoscenary.jl
(
jl
is the typical extension of programs in Julia) and can be obtained at this link:
https://github.com/abassign/Photoscenary
Download the zip file with [code] (green button you see at the top right) and open it in any folder.
Execution of the program
The first time you have to run the setup.jl program is the program that loads all the Julia modules needed to run this application. The modules, once loaded, are placed in a hidden directory of Julia. If you uninstall Julia it is likely that you will need to rerun setup.jl. Maybe in the future I will make this procedure automatic, but for now I ask you to be patient. Once done it is not necessary to rerun it as the modules are stored on the hard disk.
Now everything is fine and you can run the program ...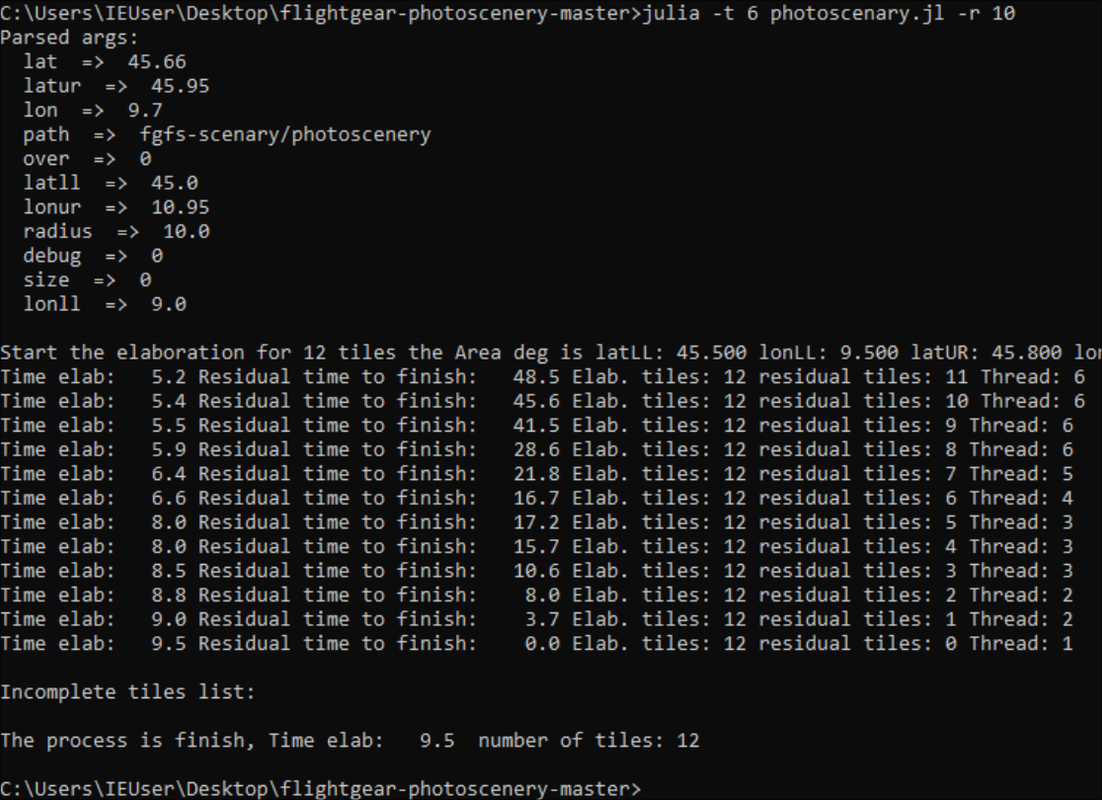 The program, for example, you can run it with this command in the
terminal
o
command
(in the windows system):
During the first execution of the program you will notice that there will be a phase of loading the system modules necessary for the execution of the program. This phase is automatic and can be repeated if the program undergoes a version change.
Then you can run the download program:
julia -t 10 photoscenary.jl --lat 45.66 --lon 9.7 -r 15 -s 3
where:
julia -t 10
--lat
: the latitude of the central location of the area
--lon
: the longitude of the central location of the area
-r
: the radius of the area to be covered with the photoscenary in nm
-s
: the resolution of the individual tiles (0 = 512x256 1 = 1024x512 2 = 2048x1024 3 = 4096x2048) Two new resolutions are planned in the future: 4 = 8192.4096 and 5 = 16384x8192
-p
: the realtive path of photoscenary ()
That is the path after the home of your system, you must know that the program knows where the home is and therefore uses it as a starting base, if you do not enter the
-p
option the program will automatically use the default path which is for Linux (and MAC)
/home/
user
/fgfs-scenary/photoscenary
in Windows
c:\users\
user
\fgfs-scenary\photoscenary
if path is -p myfolder\scenary
in windows, for example will be:
c:\users\
user
\myfolder\scenary
If instead in Linux or MAC the path begins with the character
/
(slash) the path used will be only the one entered with this parameter. For windows the same rule applies, only in this case the path begins either with a letter followed by
:
or with the character
\
(backslash).
The program has other options:
--latll --lonll
: latitude and longitude of lower left corner of the area
--latur --lonur
: latitude and longitude of upper right corner of the area
--over
: Forces overwriting of scenario files. with a numerical value greater than or equal to 1. This option allows you to build variable size photoscenaries of the tiles, for example it is possible to create a low resolution photo scene in a large area, for example 100 nm, but then make a photo scene around an airport with a high resolution 10 nm radius
-d
: with a numerical value greater than or equal to 1 the debug log is activate
--version
: The program version is displayed with the next program stop. This option is handy for knowing if the entire Julia ecosystem has been properly loaded. Obviously the version number is essential information to request technical assistance.
Various notes
The program is currently evolving, and therefore I recommend checking if the GIT contains a new version as thanks to the notes that are coming to me I could immediately make some corrections necessary to improve the product.
The program currently uses only one source to download images:
http://services.arcgisonline.com/
In the future I plan to add other sources, so I hope for everyone's help.
I hope these explanations are enough to get you started, if you have any problems or ask for clarification, write here that I try to answer. Obviously I hope to have others to give me a hand in the work, there would be many things still to do, such as directly integrating the program with FGFS.