So I decided to try and get Flightgear to render a 360 degree view so I can make 360 Videos for youtube, where user can use mouse to pan around while the video is running.
This is my progress: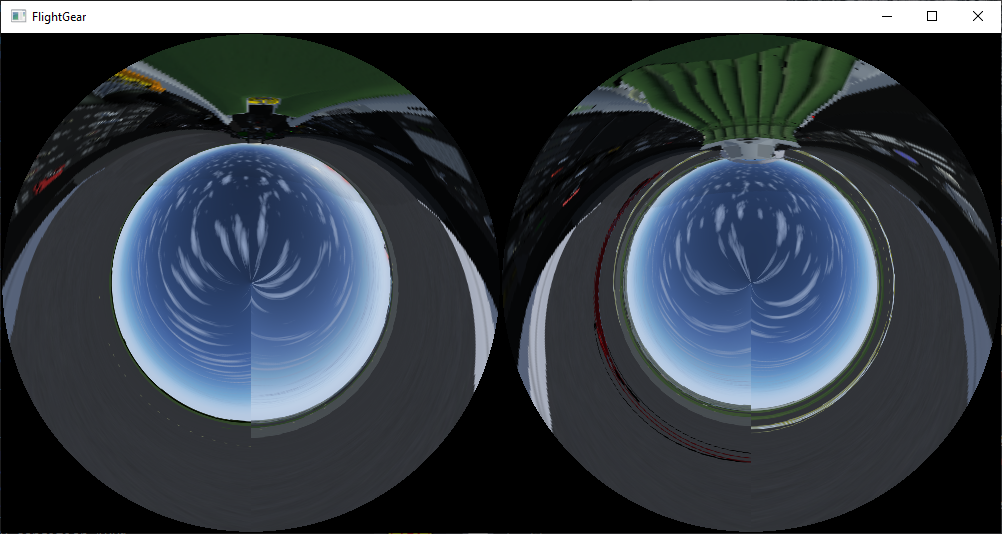 The image has 2 fisheyes. Each should cover 180 degrees wide. The right is front, the left is back. The aircraft is F-16. Right now the resolution is 500x500 for the non-fisheye textures used to make the fisheyes and the fisheyes are the same.
It does have some trouble though, I am not sure the views are full 180 and there might be near-clipping issues. Any suggestions on how to fix?
Here is the code if anyone wants to try it: (tested in FG 2019.1.2 Windows)
(just save it as xml file, and use --config=[filename with path] in the options)
Code: Select all

<?xml version="1.0"?>

<PropertyList>
<sim n="0">
<rendering n="0">
<camera-group n="0">
<camera n="0">
<host-name type="string"></host-name>
<window>
<name type="string">FlightGear</name>
</window>
<viewport>
<x>0</x>
<y>0</y>
<width>500</width>
<height>500</height>
</viewport>
<display>0</display>
<screen>0</screen>
<shear-x>0</shear-x>
<shear-y>0</shear-y>
<width>500</width>
<height>500</height>
<frustum>
<top>1.0</top>
<bottom>-1.0</bottom>
<left>-1.0</left>
<right>1.0</right>
<near>0.1</near>
<far>120000.0</far>
</frustum>
<texture>
<name>mainviewFront</name>
<width>500</width>
<height>500</height>
</texture>
<fullscreen type="bool">false</fullscreen>
</camera>
<camera n="1">
<host-name type="string"></host-name>
<window>
<name type="string">FlightGear</name>
</window>
<viewport>
<x>500</x>
<y>0</y>
<width>500</width>
<height>500</height>
</viewport>
<display>0</display>
<screen>0</screen>
<shear-x>0</shear-x>
<shear-y>0</shear-y>
<width>500</width>
<height>500</height>
<view>
<heading-deg type = "double">180</heading-deg>
</view>
<frustum>
<top>1.0</top>
<bottom>-1.0</bottom>
<left>-1.0</left>
<right>1.0</right>
<near>0.1</near>
<far>120000.0</far>
</frustum>
<texture>
<name>mainviewBack</name>
<width>500</width>
<height>500</height>
</texture>
<fullscreen type="bool">false</fullscreen>
</camera>
<camera n="2">
<window><name>FlightGear</name></window>
<ortho>
<top>500</top>
<bottom>0</bottom>
<left>0</left>
<right>500</right>
<near>-1.0</near>
<far>1.0</far>
</ortho>
<viewport>
<x>0</x>
<y>0</y>
<width>500</width>
<height>500</height>
</viewport>
<panoramic-spherical>
<texture>mainviewFront</texture>
</panoramic-spherical>
<fullscreen type="bool">false</fullscreen>
</camera>
<camera n="3">
<window><name>FlightGear</name></window>
<ortho>
<top>500</top>
<bottom>0</bottom>
<left>0</left>
<right>500</right>
<near>-1.0</near>
<far>1.0</far>
</ortho>
<viewport>
<x>500</x>
<y>0</y>
<width>500</width>
<height>500</height>
</viewport>
<panoramic-spherical>
<texture>mainviewBack</texture>
</panoramic-spherical>
<fullscreen type="bool">false</fullscreen>
</camera>
<gui n="0">
<window n="0">
<name type="string">FlightGear</name>
</window>
</gui>
</camera-group>
</rendering>
</sim>
</PropertyList>